I've been using Rakuten long before I learned Japanese. It's really not that difficult at all — except that the English pages are difficult to find at first. So here is my guide with all the links for your English Rakuten needs! Read below for more instructions.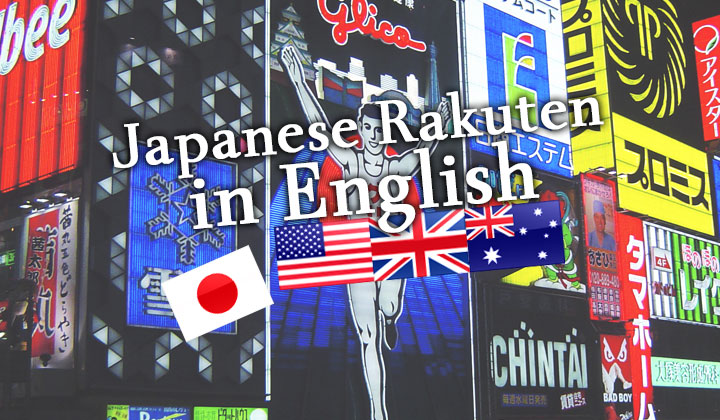 Rakuten.com Global
Not to be confused with the Japanese Rakuten.co.jp store. Rakuten.com is a separate e-commerce marketplace, previously known as  Buy.com owned by the Japanese Rakuten company. Available in several languages, including the English version of Global Rakuten store. Some sellers on the Japanese store are also on the global site, but the range of products is mostly very different.
Rakuten.co.jp in English
Even though the Japan Rakuten online store is for the most part in Japanese, it may be easily translated as well as used by any nationality. Account registration is directly available in English, with a possibility to register an account in or outside of Japan. Also they have a large amount of products available for international delivery, that you can simply search for using the link to filter out international sellers.
To use the website in English, you need a compatible browser or browser add-on that automates the process of translating the website. The easiest option is to use Google Chrome which will automatically ask you to translate pages that are different than your default language. Another easy one-click option is the Google Translator Extension for Mozilla Firefox.
Both Chrome & Firefox, will show you an icon on the upper right corner of the browser with easy translation options. Make sure that the settings are set to automatic translation mode.
Rakuten Services
Originally named MDM, Inc. and established in 1999, Rakuten, Inc. is an e-commerce behemoth that excels in multiple industries with its global tentacles. With its headquarters in Tokyo, Japan, the company now has administrative offices all over the world.
Just when we thought Amazon and Taobao had the market cornered, Rakuten has exploded and is offering its multi e-commerce services on a worldwide basis. They operate in three primary segments; internet services, internet finance, and other e-commerce services. The list of what they offer simply boggles the mind:
Internet shopping mall Rakuten Ichiba
Video on demand
Credit card platforms
Life insurance
Electronic money
Communication services
Search engine platform
Various Travel booking sites
Portal sites
E-reading products
Online auctions
Online golf reservations
Search engine platform
Video on demand
Credit card platforms
Life insurance
Electronic money
Communication services
This list is not all inclusive. In fact, it may be easier to list what they don't do rather than all the areas of commerce they are involved in. Currently the genius of Hiroshi Mikitani serves as the company's leader, co-founder and CEO. At only age 52, Mr. Mikitani has amassed an estimated net worth of 8.6 billion dollars. Certainly, his education at Harvard and Hitotsubashi has served him well.
The company is reporting that they plan to raise $1.5 billion from a share offering to stabilize their financial standing and will continue to look for growth opportunities through acquisitions. With the recent purchases of Israeli instant messaging service operator Viber and U.S. based rebate site operator Ebates, the company is no stranger to expensive acquisitions. Financial analysts at Barclays say the funds raised from current stock offerings will put the giant e-commerce company on firmer financial footing and allow them to be more active in acquisitions.
Mr. Mikitani appears to agree with Jack Ma of Alibaba in the way both entrepreneurs are cultivating business relationships around the world with CEOs of major corporations in an effort to expand business interests in the U.S. and other financially sound countries.
Comments below, on Rakuten and using it in English.
Thank you for your input and visit!
---
Обратите внимание: Данное руководство объясняет, как использовать он-лайн магазин "Rakuten" на английском языке, однако оно также может быть полезным для русскоязычных клиентов. Пожалуйста, ознакомьтесь с приведенными выше инструкциями, чтобы узнать, как перевести сайт на свой язык. Для тех, кого заинтересовал Global Rakuten, на сайте "Rakuten.com" существует поддержка нескольких языков, возможно, что русский язык будет включен в скором будущем.