Did you know that the Japanese Amazon.co.jp store is available in English. You can register, manage orders, check out items, get help and more!
I finally found the right link that changes the language, so here it is with easy instructions on making purchases.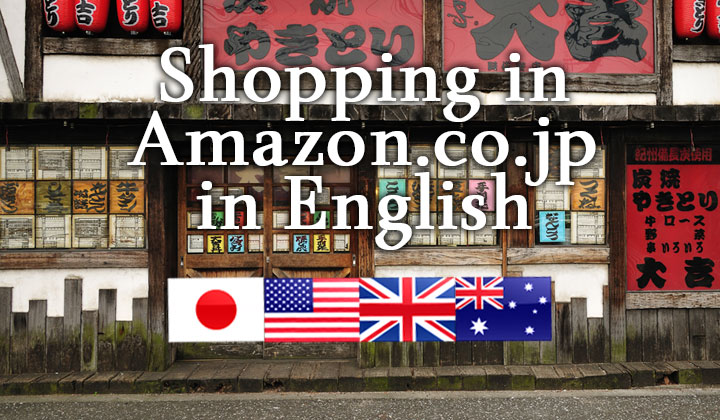 Note: Sometimes when browsing, language can switch back to Japanese. Don't worry as product pages, account manager, checkout & help will stay in English!
The link on the front page is different. It takes you to a list of eligible items for international shipping, but the language will stay in Japanese. You can bookmark the correct link above, so that the site automatically opens up in English when needed.
A lot of expat friends of mine have noticed that Amazon.co.jp is an extremely convenient way to do your shopping in Japan. No wonder with blazing fast, free home delivery and competitive pricing. That habit often continues even after returning back home. — A huge amount of Japan goods & books in one store, as well as affordable international shipping is sometimes just hard to resist.
Amazon Japan in English
There are two ways to do your shopping.
Use the English language interface (1), so that only the product descriptions, reviews and some other pages remain in Japanese (link here).
Have the rest of the website translated with an automatic browser translation (2) add-on, which is far from perfect, but will attempt to convert all the text that's not in picture format (see below).
The best experience is when both (1) (2) methods are used together.
---
Translating Amazon.co.jp
Yes, the Amazon Japan store can be quite easily translated into English. So that you can browse pretty much every page in your native language. Many other languages like French, Spanish, German, Italian, Chinese, Korean etc. should also work.
There are different ways to do this depending on the browser being used. Mostly with the help of a plugin, extension, add-on etc. While obtaining one is easy, finding a good one that works for all pages in auto-mode was not as easy. So here you go my friends, a list of browsers and the best possible way to get things done!
Choose the web browser you are using from the list and follow instructions;
Google Chrome
This is the easiest by far, because all you need is to have your browser language set to anything other than Japanese and Chrome should automatically ask if you want to have the page translated.
It will give you a manual section over the target language, and you can set the process to be automatic with the right upper corner icon.
Mozilla Firefox
Extensions are easy to install for Firefox. Go and install the S3.Google Translator Extension & restart your web browser. Immediately you will see an additional icon on the right corner of your window.
There you can set any page you want, in this case www.amazon.co.jp to translate into English automatically.
Help in English
Looks like they have noticed that there are two million foreign inhabitants living in the country. Because Amazon Japan has established an English language customer service! If you have any questions they are actually very helpful.
Also they have a lot of instructions available in English — "click here for the English help page". See the part where it says "need more help?" for information on reaching them either by phone, chat or e-mail.
Hope this helps and that you know how to buy from Amazon.co.jp!
Please, let me know if you have any questions and I will be glad to help.
(Японский Amazon) Пожалуйста, обратите внимание, что приведенные выше инструкции ориентированы на англоязычных пользователей. Для использования японского сайта Amazon на русском языке, пожалуйста, обратитесь к разделу автоматического перевода веб-сайта с помощью Вашего веб-браузера. В настоящее время веб-сайт розничной торговли находится на "Amazon.co.jp" и переведен только на японский и английский языки.
当サイト「kachi.jp」は、amazon.co.jpを宣伝しリンク することによってサイトが紹介料を獲得できる手段を提供することを目的に設定された アフィリエイト宣伝プログラムである、Amazonアソシエイト・プログラムの参加者です。
This website, kachi.jp is a participant in the Amazon Associates Program, an affiliate advertising program designed to provide a means for sites to earn advertising fees by advertising and linking to amazon.co.jp.