(!) Posts contain affiliate links that the author may earn commission from.
While eBay auctions is not as popular in Japan as in many western countries, there are thousands of Japanese eBay sellers and it's services do reach there. This is shopping guide on how to on use eBay Japan in English.
For quick access, check out the links below!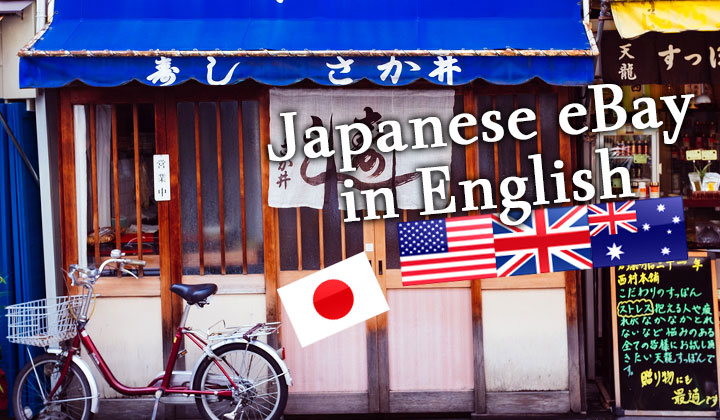 There are basically (1) (2) two options to do your eBay shopping in English.
Use the (1) English version of eBay. Which can sort out sales to those who send to Japan, or by using the advanced search function, find Japanese sellers. (link here).
Second is to use the auctions site (2) "Sekaimon" which is a Japanese portal of eBay. While the site is only available in Japanese, you can have the page translated into English to which I have written instructions below. (link here).
eBay.co.jp
The website eBay.co.jp is an informational site setup to help Japanese businesses to engage in eBay activities. They have a blog with the latest news as well as all the necessary information on becoming a seller. Not a practical site for English speakers.
Sekaimon in English
For Sekaimon, I suggest using Google Chrome which has the ability to automatically translate all the pages. Just make sure that you have a language other than Japanese set as the default language.
In this way it will suggest to translate the page after it has loaded completely. Sometimes a little patience is needed but it seems the easiest solution at the moment.
About Sekaimon セカイモン
The Japan equivalent 'Sekaimon' is basically a Japanese language interface and portal for eBay auction services. Targeted at those who wish to deal in their native language. It has a complete buyer, seller interface suited for orders from Japan.
There are other benefits too,  I have translated their about page below for more information.
---
What is Sekaimon?
Sekaimon is the official Japanese website of "eBay", an auction site proud to have approximately 200 million items on sale. Despite being in Japan, customers can easily, freely and safely shop goods from all over the world.
Three features of Sekaimon
– One of the world's largest number of items
From brand name to vintage items, new to second-hand items, you can find anything on Sekaimon, including apparel, jewellery, watches, musical instruments and much more. There are also many items that are not imported to Japan which are sold here, with local or auction price. A site for great bargains indeed!
– Poste restante service for best international shipping rates
After a successful bid, Sekaimon can store the item for a maximum of 30 days. With a "poste restante" service that ships internationally with the best timing. By shipping multiple items at once, international shipping fees can be reduced significantly.
– Easy & Safe Japanese language support
Sekaimon will be responsible for all the troublesome work, from communication to the local seller, item shipping, importing process, bidding and item delivery. Customers can shop with ease even with their language barrier.
Alternatives
I might do a post in the future about other Japan auction sites. Motivating comments are most welcome! Other than that, check out the guide for Amazon.co.jp in English which is another great place to do your shopping in Japan.
Please, leave your questions and comments below.
Thank you for reading. Sincere regards, Tim.