The affiliate program on the Japanese Amazon.co.jp, is known to be the most difficult associates program to get approved to. The language barrier being the least of your problems. Or it could be very easy, you just never know until you try.
While there is not one miracle method that you can follow to get accepted, there are many factors that can be taken into consideration. And since very little information seems to exist in English, I decided to write down my research from Japanese blogs & forums, with my own experience included.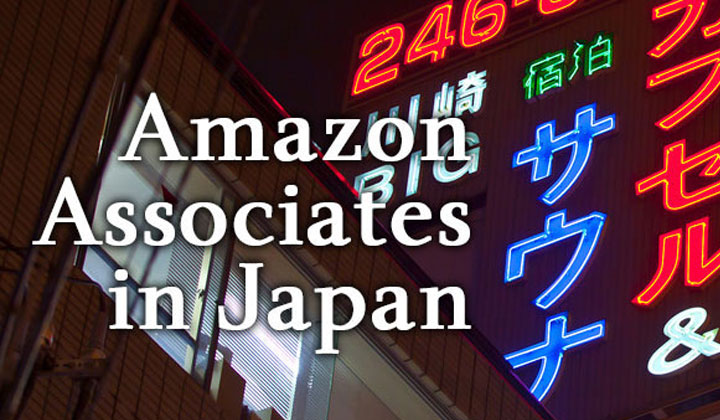 What you do with the information is up to you. It can be used to trouble shoot a disapproved application, or take precautions on the registration process for example.
Amazon Japan Registration
Although the actual Amazon Associates application process is in Japanese, it accepts any nationality to register with an overseas phone number and address. You can also first register the basic Amazon Japan account in English which is highly recommended to make the application process easier. Just see this guide on Amazon.co.jp in English for the appropriate links to get started.
Please note, that it is advised to use 100.1% same contact details in your normal account and the associates application.
Website Used in Application
When deciding which website to use for the initial registration, the langue factor can be taken into account. In theory an English or any other language website or blog can be approved, although a Japanese website could potentially increase your chances. Another method that has been often used by the Japanese is to open up a simple, separate blog with the implied intent of looking "amateurish".  After first getting approved to the program, one can use the affiliate links on their actual site.
The most commonly used platform for this purpose is the Ameba's Ameblo (アメブロ) blogging and social networking service. It's totally free & one of the most popular such sites in Japan.
A cheap, easy way to create a Japanese blog is to use the Fiverr marketplace where you can translate content as well as your blog description for the application form, into Japanese for just $5 per text. Or have someone create the content for you.
Registration Tips
For the actual Amazon Associates application process, in my experience it's better to use Google Chrome which has the most reliable automatic translation feature.
Here are some hints that I know about, or are commonly mentioned in Japanese forums, blogs. They might or might not increase your changes of approval:
It can take several attempts to get approved until usually some specific detail of the application is changed that leads to your approval. So it can be OK to persist with caution in mind.
The fault can be in connection with your normal Amazon account. The contact details, including phone number not being the same as in the application for example.
Unlike Amazon Associates programs from other countries, phone number verification is used. This verification can be done only once per account!
Established, amateur websites seem to have no problem getting passed approval. When on the contrary a professional, over-confident approach has been claimed to affect the decision.
Soon after registration and while waiting approval decision, some set the payment method to gift card to give a favourable situation for Amazon. Then change it later.
The best answer for the reason for joining with the program is claimed to be the choice that contains both monetising and bringing valuable content.
If it is an account related problem, the application can be done with another name and account. Even if the website stays the same. Also, the name for making payments can be freely changed at a later time. Or in the case of gift cards, they can be applied to any account.
Disapproval Mail
If the application is denied, Amazon sends this disapproval mail with supposed help on diagnosing the problem. Unfortunately the information contained within is not that useful and leaves you guessing. Also contacting the Japanese Amazon Helpdesk seems futile as they are unable to give any specific information about your situation.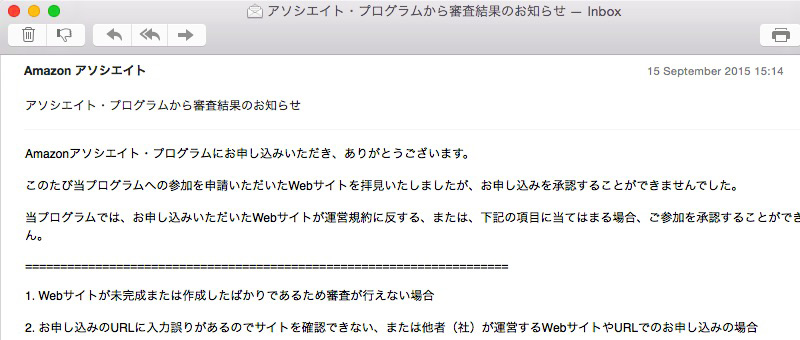 For your reference, I have translated the email to English here. Note that even though they put emphasis on your website being the culprit it doesn't mean that it necessarily is the case. As stated before, I have experience in registering a website that was previously refused with another user.
Thank you for applying for the Amazon associates program.

We have checked the websites associated with the application for this program, and  could not accept your application.

If the website of application either violates our terms and conditions or one of the following cases applies, we cannot grant you participation.

Either the website is incomplete or newly created and can't be examined.
The website can't be found due to an incorrect link or you have used a third party website for the application.
Access to the entire website or some contents are restricted and therefore cannot be examined.
Your name, telephone number, or address in the application form is incorrect.
In the website domain you have "amazon", "javari", or "kindle" or any other name that is associated with these three. You are also not allowed to use any of these names in your Social Network user names.
There is a violation of intellectual property rights.
The website includes sexual content.
The applicant is underage.
This article is subject to change as I learn more about the situation. My humble wish is, that you leave a comment with your experience so that we can help each other.