The most popular "online shopping mall" in Indonesia; Blibli is a convenient way to order pretty much anything to your door with free shipping — in 2018 now English!
Click here for Blibli.com Shopping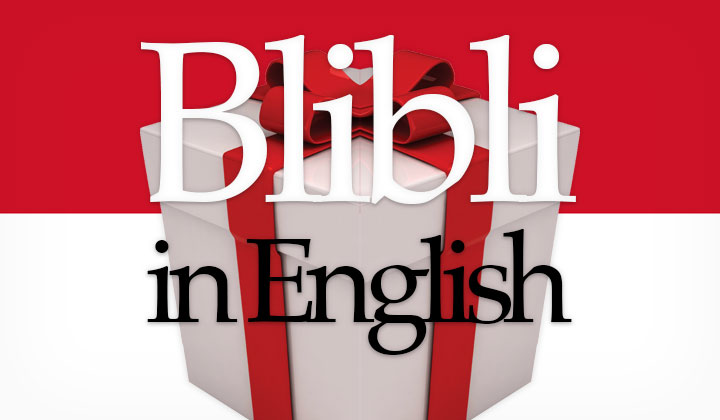 Important links:
You can also call customer care at 08041871871 — 24h/7.
Blibli in English
While Blibli is in Indonesian language for the most part (mixed with some English); it's a modern shopping platform that's easy to navigate and you can use the help of a live translation to shop at the blibli.com website completely in English.
Every modern browser has an add-on that enables you to automatically translate every page as you browse through Blibli — including new account sign up, navigation, product descriptions, check out and payment.
See the link below to install the feature for your current web browser:
Google Chrome users, please note! The translation add-on comes ready installed for all users of Chrome. Make sure that your browser language is not in Indonesian and it will automatically ask you to translate blibli.com to English or any other language when you open the website for the first time.
Blibli Essentials
According to Blibli; as pioneers of the "online shopping mall" concept, they are a modern e-commerce website committed to safe, convenient, easy and fun shopping experience around the clock in Indonesia.
They carry hundreds of thousands of selected products and it's also used as a popular seller portal for Indonesian businesses.
There are 15 product categories in total including: Mobile & Tablets, Cameras, Computers & Laptops, Electronics, Men's Fashion, Women's Fashion, Health & Beauty, Mother & Child, Sports & Outdoors, Home & Living, Toys & Video Games, Automotive, Culinary, Ticket & Voucher as well as Gallery Indonesia.
Blibli Highlights
24h customer care, call 08041871871 or open chat here
100% free shipping nationwide!
Pay in installments (up to 12months) with 0% interest
Hundreds of thousands of products in 15 categories
Free Blibli rewards points awarded to new members
There are many payment methods for the convenience of customers. However paying on spot with COD (cash-on-delivery) is still the most popular method today. Others include bank transfers, credit as well as debit cards and electronic wallets such as XL Cash, Sakuku & Mandiri e-Cash to name the most popular.
More About Blibli
Operating under the slogan "Anytime, Anywhere, Shopping!"; Bibli was founded in 2011 with an online shopping mall concept where Indonesians could enjoy themselves and find all of their shopping needs conveniently in one place similar to a mall. The company is headquartered in West Jakarta in Indonesia.
The president director, Kusumo Martanto has steadly expanded the company's operations with several investment funds over the years. This has included revamped website design, improved account management system, and the creation of new categories for products over the years.
Currently Blibli ranks as the second biggest e-commerce website in Indonesia just after Lazada. Their position as an important destiny for Indonesian online shoppers is expected to remain firm. Plans for native English support has not been planned however most e-commerce websites are known to partly use English on top of Bahasa Indonesia — which is the official language in the country.
See here for the Indonesian Blibli online shopping mall.
Any questions about Blibli or how to use it in English?
Don't hesitate to leave me your comments and questions — thanks!
For your information; this amongst other posts and reviews may contain affiliate links. This helps me monetarily to and to keep on writing quality content. Hope this helps and our benefits are mutual — biggest thanks for voluntarily supporting me. Tim.