This is how to do your online shopping at Blanja in English — guide & review on the Indonesian eBay at blanja.com or ebay.blanja.com for 2018; quick link below!
Click here to access Blanja.com in English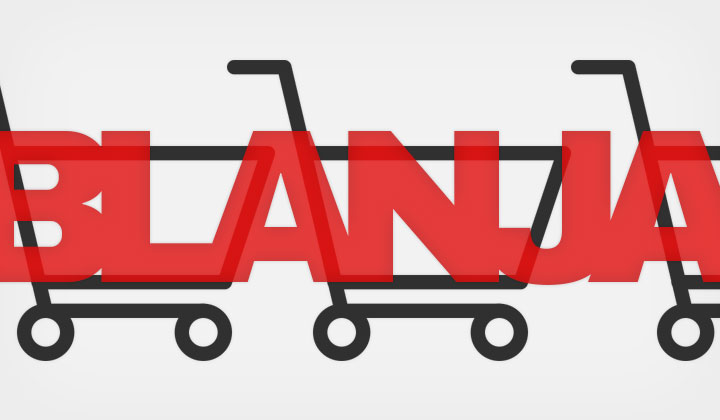 Quick links
Blanja Review
Back in 2013 — together with Telkom Indonesia; eBay launched their online marketplace in Indonesia known as Blanja. Telkom is the biggest telecommunications provider in the country, both private & state-owned.
The site operates under the slogan "Terpercaya, Aman, Murah" in Indonesian meaning; Trusted, Cheap, Safe. And it's used as a seller portal by thousands of Indonesian businesses; selling a wide range of items (see category list below).
A native English language version now exists which is intended to ease navigating the website (direct link above). Also many of the product descriptions are in English which makes shopping easy; especially for expats who are used to navigating the Indonesian-English webosphere. Account registration is in Indonesian only.
For a throughout complete English language shopping experience; customers may use an automatic translation add-on with their web browser.
Live chat support is available from monday to friday between 8am to 5pm. You can also send them email or contact them by phone during service hours.
The Blanja recommended payment method is PayPal and known globally. However cash on delivery (COD) is still the prevailing choice amongst local customers. Also most major credit & debit cards are supported as well as local internet banking.
The joint venture company named "PT. Metra Plasa" is headquartered in Jakarta, Indonesia and employs more than 200 personnel.
List of Blanja Shopping Categories;
Automotive
Car & Truck Parts, Motorcycle Parts, RV, Trailer & Camper Parts, ATV Parts, Apparel & Merchandise, Car Electronics, Parts & Accessories, Automotive Tools, Boat Parts.
Fashion
Baby & Toddler Clothing, Women's Accessories, Jewelry & Watches, Women's Shoes, Women's Handbags & Bags, Men's Accessories, Men's Shoes, Health & Beauty, Shoes & Accessories, Kids' Clothing, Women's Clothing, Men's Clothing.
Digital
TV, Video & Home Audio, Cameras & Photo, Portable Audio & Headphones, Smart Watches, Computers & Networking, Video Games, Cell Phones & PDAs.
Hobbies & Collections
Entertainment, Dolls & Bears, Pottery & Glass, Comics, Musical Instruments, Collectibles, Antiques, Memorabilia, Stamps, Sports Member Cards & Fan Shop Art from Dealers & Resellers, Direct from the Artist.
Household
Home Decor, Housekeeping & Organization, Crafts, Bedding, Tools, Pet, Supplies, Yard, Kitchen, Dining & Bar, Lamps, Garden & Outdoor Living, Home Improvement, Furniture, Bath, Lighting & Ceiling Fans, Rugs & Carpets.
Sports
Cycling, Camping & Hiking, Outdoor Sports, Fishing, Running & Yoga, Martial Arts & MMA, Fitness, Water Sports, Team Sports, Boxing, Winter Sports, Tennis & Racquet Sports, Indoor Games, Sporting Goods, Golf.
Toys
Puzzles, Video Games, Action Figures, Educational, Diecast & Toy Vehicles, Toys & Hobbies, Outdoor Toys & Structures, DVDs & Movies, Music, Radio Control & Control Line, Costumes, Marbles, Models & Kits, Books.
We have come to the end of the review. Want to find out more?
Click here for the Blanja about page for more reading.
Or leave a comment; questions and shared experiences most welcome!
Thank you for reading. Regards, Tim.
Commercial notice; The blog "Kachi.jp" contains affiliate links where appropriate and may translate to monetary benefit to the author. Your support is greatly needed and appreciated. My biggest and most humble thanks for all visitors.